QC Event School Student Showcase
Jackie Creative Designs
Stepping Into 50 Birthday Party Theme. Created by self for friends Party. Organized and planned full party using hand made theme.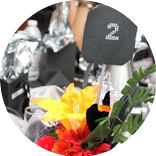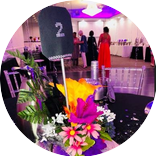 Jacqueline Rodgers
Event and Wedding Planning
---
With over ten+ years of local event experience, I know how to make your event one to remember. My expertise from creating decorations from a vision, to trying to find you the right choice of professional performers; venue as well as custom creating center pieces - unique to you! I assist you with choosing the right give-a-way ideas; all to be able to create your own style that matches to your personality.

I work with you one on one to build your event from the ground up. "Creating Your Memories" to last a lifetime!.

My SERVICES is not limit to party planning.. My specialty is to create and design decor, give-a-ways, corporate gifts and ideas, and many more theme ideas!.. Feel free to get in touch! there is no obligation to ask a question.